A Mona Lisa Christmas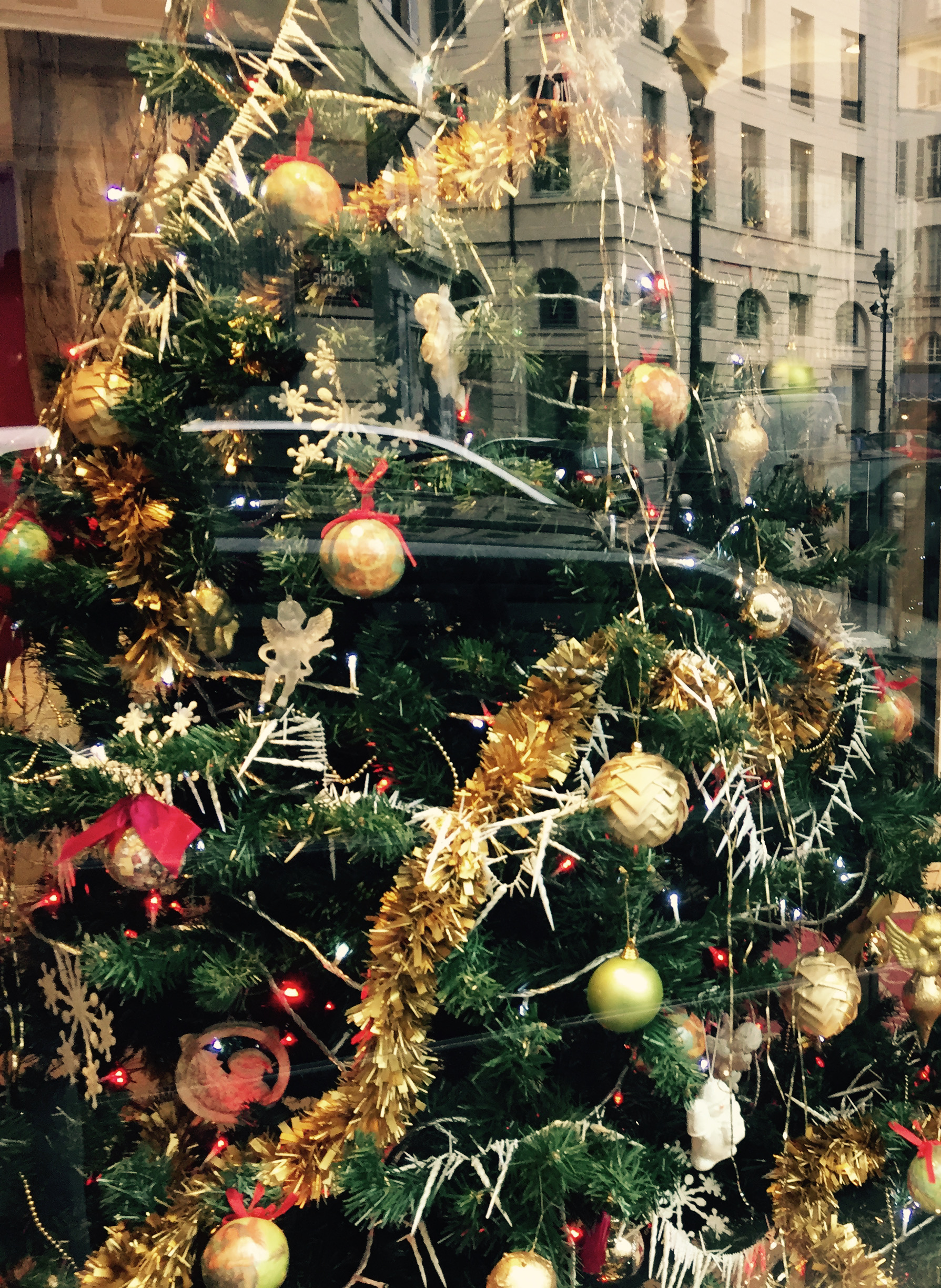 (This is a "lost chapter," cut from the beginning of Daisy and the Missing Mona Lisa. It acts as a bridge between the end of Daisy in Exile and the beginning of Daisy and the Missing Mona Lisa. It features Daisy's sister Clymene, who appears in Daisy and the Pirates, but not at all in the third book. Mostly the chapter features Paris at Christmas time.)
*****
When my family arrived at Aunt Mill's apartment in the Marais, the jetlagged parental units flung themselves into bed, taking the baby with them. My older sister, Clymene, too excited about being in Paris to sleep, wanted to take a walk.
We zig-zagged down tiny rue Charlot, to rue des Quatre Fils, to rue Geoffroy l'Angevin, breaking out into the open space of the Musée Pompidou. A mist shrouded the top of the cartoon oil refinery, while below, a crowd milled through a mini-forest of Christmas trees and a life-sized crèche. Roving bands of wisemen and wisewomen sang French carols. Clymene looked up at the lead-blanket sky and said, "Is it always this dark in Paris?"
"Always," I said. "You get three minutes of daylight every other week."
I guided her toward the river, taking rue du Renard and passing l'Hôtel de Ville, so we could cross at Pont d'Arcole and Cly would get the experience of coming up on Notre Dame all at once.
We stopped at point zero, spires of the cathedral popping through the mist.
"Oh my God, Daisy, oh my God," she said, staring up.
I smiled. "Yeah, huh?"
She turned and hugged me.
To be clear, this is my sister we're talking about, the boy-crazed noob who drove the family car into our shrubs one drunken night, and who once tried to bash my brains out with a rock, vowing to kill me if it was the last thing she ever did.
Thus began a week of roaming the city in abnormal harmony. Even though I couldn't say how exactly, Clymene had changed.
The weather hadn't changed though—damp gray days, cold inky nights. But the City of Lights knew what to do about the dark—stringing lights everywhere, decorating every rue, every boulevard, every store window. Paris became an electric confection, as if the whole city was made of sugar sparkles.
That week, Cly and I wandered through Les Halles, strolled through the market crowds along rue Moufftard, stood inside the glowing light of Sainte-Chapelle, ducked into Shakespeare and Company, ambled through the Jardin du Luxembourg where hoarfrost clung to trees and the Pavillion de la Fontaine stood shuttered, awaiting spring.
We roamed down rue de Lappe, rue Keller, and Passage Josset near Bastille, browsing in boutiques like L'idien, Moloko and Born Bad, and new places like Loulou Addict, Les Fleurs and Sissi's. Clymene proclaimed me a shopping genius. I told her it was all my friend Nina, most stylish pre-teen in Paris, who first guided me through the byways of Bastille.
We even elevated up to the top deck of the Eiffel Tower where the wind made our eyes water so the twinkling city below became a blur. We ate lunch at L'Assiette Aux Fromages one day and ZigZag Café the next. One afternoon we metroed to Montmartre and watched dusk settle on the city from the frozen steps of Sacré Coeur, wandering through the horde of tourists and cold-proof-painters of quaint Paris scenes in Place du Terte.
Later, outside the Gallery La Fayette, we watched grandmamas pull snotty youngsters past windows where animatic angels and freckled puppets in pigtails moved to piped-in Noel music. Another window had a chorus line of mechanical dancing dolls, dressed in '60s garb, like muppety Barbies with big lashes and blinking eyes. Inside we battled past Parisians hunting for last minute cadeaux, the great cobalt ceiling shimmering overhead, a four-story, baby-blue Christmas tree filling the dome.
Up the escalators we went, floor-by-floor, gazing down on the squiggling throng and the army of style-wise sales peeps serving them. On one floor we passed rows of perfume bottles, lit from the bottom, glowing like gems. On another, battalions of éclaires, opera cakes, and mille-feuilles stood in rows like soldiers dressed in pink, lime, and lavender uniforms.
Finally, pulling scarves over our noses, we went up and out to the windy roof of the Gallery, gazing down on the back of L'Opera Garnier and a far-off Ferris wheel on the Champs-Élysées, spinning like a distant nebula.
Further on, a searchlight from the Tour d'Eiffel, cut through the dark. Overhearing some French woman gasped, "c'est magnifique," Clymene started repeating "c'est magnifique," every time we encountered something she liked. Instead of being annoyed with her, I laughed.
In between all this magnifique-ness, we managed to buy Christmas presents. Cly had no sense of the difference between euros and dollars, and had somehow snaggled a credit card from Mom for our expedition, so spend we did. The Metro was packed on the ride home, but normally surly commuters got caught up in the holiday mood, making space for us and our packages. On the walk back from the Metro, Clymene talked about her dozen-or-so most-recent boyfriends. Somehow her tales of romantic woe didn't make me gack. She claimed she'd sworn off boys, but every time we passed a cute French guy, wrapped in a cool scarf, hair tousled by the wind, she'd whisper, "c'est magnifique."
Oh, brother.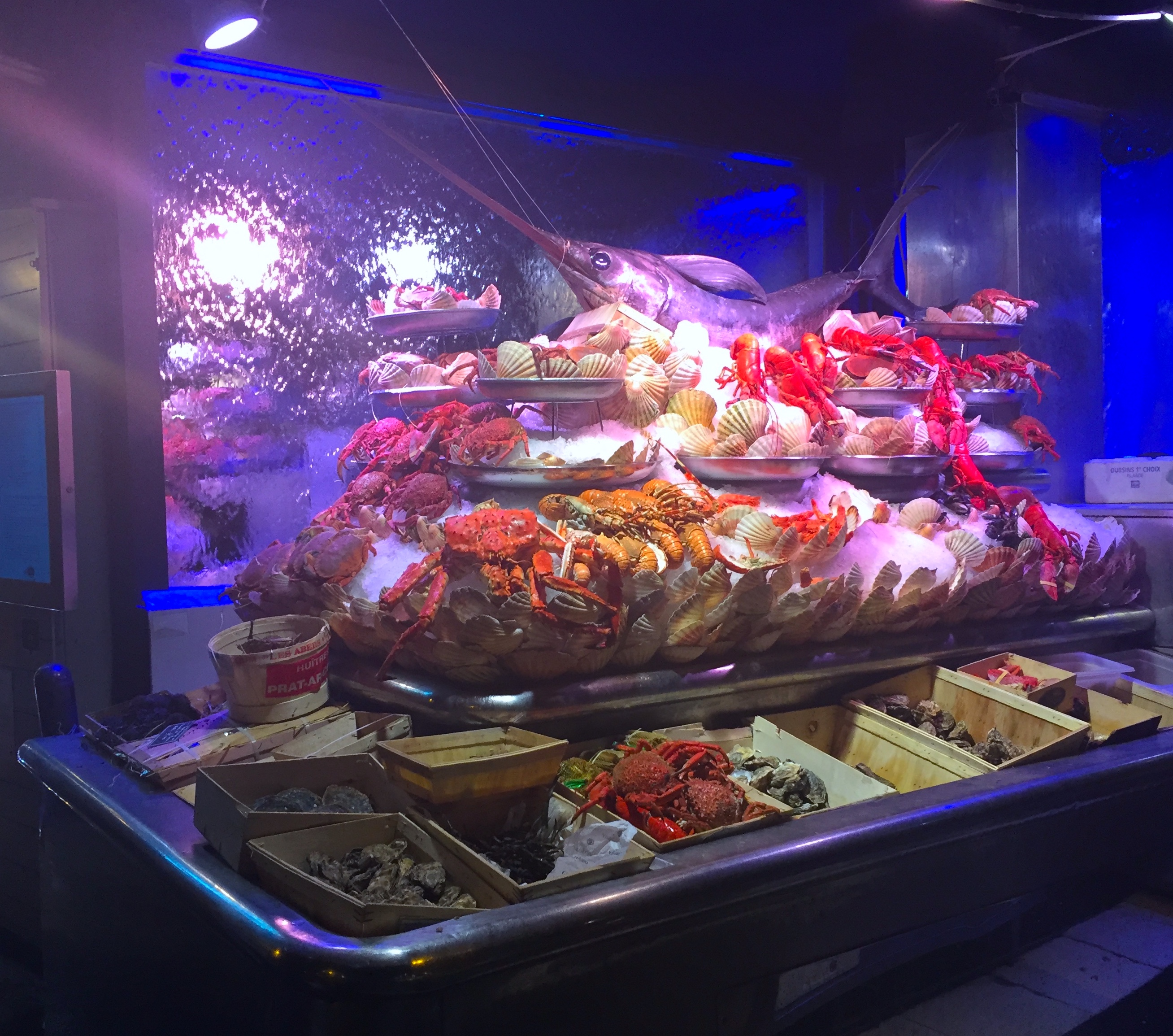 For Christmas Eve, at my mom's request, Aunt Mill made a reservation at La Closerie des Lilas on Boulevard du Montparnassee. I'd walked by the place a million times but it seemed posh, so I'd never gone in. La Closerie was an old school café, the terrasse tented and heated in the winter. It featured a magnifique outdoor display of fruits de mer, mounds of fish, lobsters, oysters, clams, crabs, and squid, all on perfect crushed ice, lit with spotlights so everything sparkled like the Gallery La Fayette windows.
Apparently, the writer Hemingway hung out at La Closerie way back—when it still tolerated bums. Mom and Aunt Mill kept referring to some history they'd had there, involving race-car drivers, quantities of champagne and caviar, and bad behavior, when they were "young and reckless." Their story had a lot of blank spots and they laughed a lot telling it but would not provide details when Clymene and I pressed them.
Then, all of a sudden it was almost time for my family to go home. Clymene suddenly said she wanted to go see the Mona Lisa at the Louvre and that it was the only thing she'd really wanted to see in Paris. Aunt Mill jumped online and found that tickets to the Louvre had been booked till 2065. Clymene had her first and only pout-o-rama, spouting such favorites as, "how come I never get to do what I want?" and, "I'm just the au pair you dragged along to take care of your stupid baby while you go out and gorge on oysters and champagne."
"It's the Louvre," Mom said, "it was here before you were born and it'll be here when you come back."
"What if I die first?"
"Then we'll scatter your ashes there," said Mom.
Clymene stormed off to my room.
I looked at Dad. "Why not call Pauline Dumeril at the Centre de recherche et de restauration des musées de France, and see if she can sneak us in somehow?"
He sighed.
Pauline was one of dad's former grad students and in her Pauline way, she made two museum passes appear like magic. Since no one else desired to play human sardine at the Louvre, I was volunteered to escort Clymene. I didn't mind really. Believe it or not, I'd never been inside the place, not counting Pauline's office, which was in the basement.
After picking up the passes from Pauline at the Port de Lion entrance, we marched around and joined the long line at the glass pyramid. Once inside, the ticket rationing, along with the fact that the Louvre is as big as Connecticut, made the crowd tolerable. More than tolerable actually since the bulk of tourists skipped out on seeing Mantegna's Mars and Venus, and Braccesco's Annunciation, and Lorenzo Veneziano's Virgin and the Child. A tiny school of sardines gathered around Leonardo's St. John the Baptist, but Goya's paintings were bereft of admirers, and even David's Leonidas at Thermopylae with the super-hunky, naked men, only got a smattering of passing eyeballs. Though, Clymene remarked that Leonidas was, "magnifique."
The reason most of the museum seemed empty: a crowd the size of Cleveland gathered in front of the Mona Lisa. She seemed distant and forlorn behind the thick glass and heavy guardrail. People pressed in twenty-deep around her. Everyone had their iPhones and cameras out. Most got great shots of the back of a stranger's head. You had to slither through the crowd to get a real look. It was a forest of backpacks and damp sweaters. I followed Clymene in, but took an elbow in the face. The people near the front wouldn't budge. After staring at some woman's ponytail for two minutes, I turned back.
They'd placed the painting a bit over everyone's head, so even from a distance you could see her brown eyes, wispy veil, and broad forehead. But so what?
Since then, I've learned there's a mountain of stuff written about Mona Lisa and that "so what?" is a common first response of people who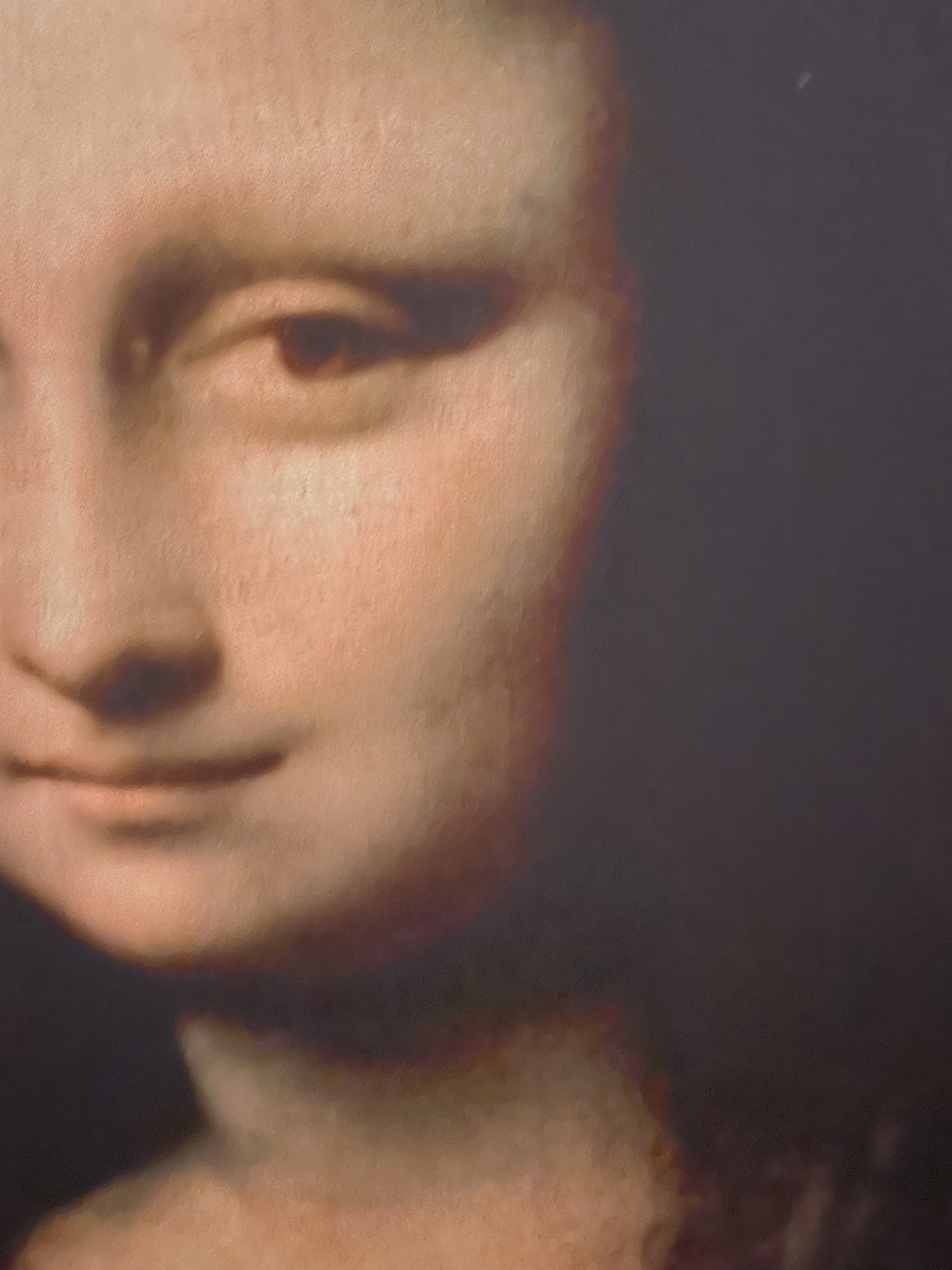 see her. But I felt like a traitor at that moment, or like I was missing something that was obvious to everyone else. I expected more. I mean when you walk into Sainte-Chapelle, less than a mile away on l'île de la Cité, your brain explodes. It just does. The shimmering blue light jumps through the windows and lifts you off your feet. You can be an atheist and still feel that way. But Mona, dear, plain Mona, was like your friend's judgmental aunt.
I stood back watching the crowd. Every corner of the planet was represented, whispering opinions in twelve languages. Eventually, Cly staggered out of the scrum, beatific smile on her face.
"Did you make it to the front?"
She nodded. "She's so beautiful. Thank you for coming with me. It means so much to see her. I've always-always wanted to. I know that seems dumb but it's true."
I smiled, praying it wouldn't come out like a smirk.
She gave me another hug, like a hug you give someone you love.